The next day, we started early for the Inari Shrine, one of Kyoto's most famous sites. It's free, and the day we went, it was warm and sunny, which was perfect for walking up the hundreds of stairs through bright orange gates to the summit and back, which took us about 2 hours, including stopping at the many shrines along the way.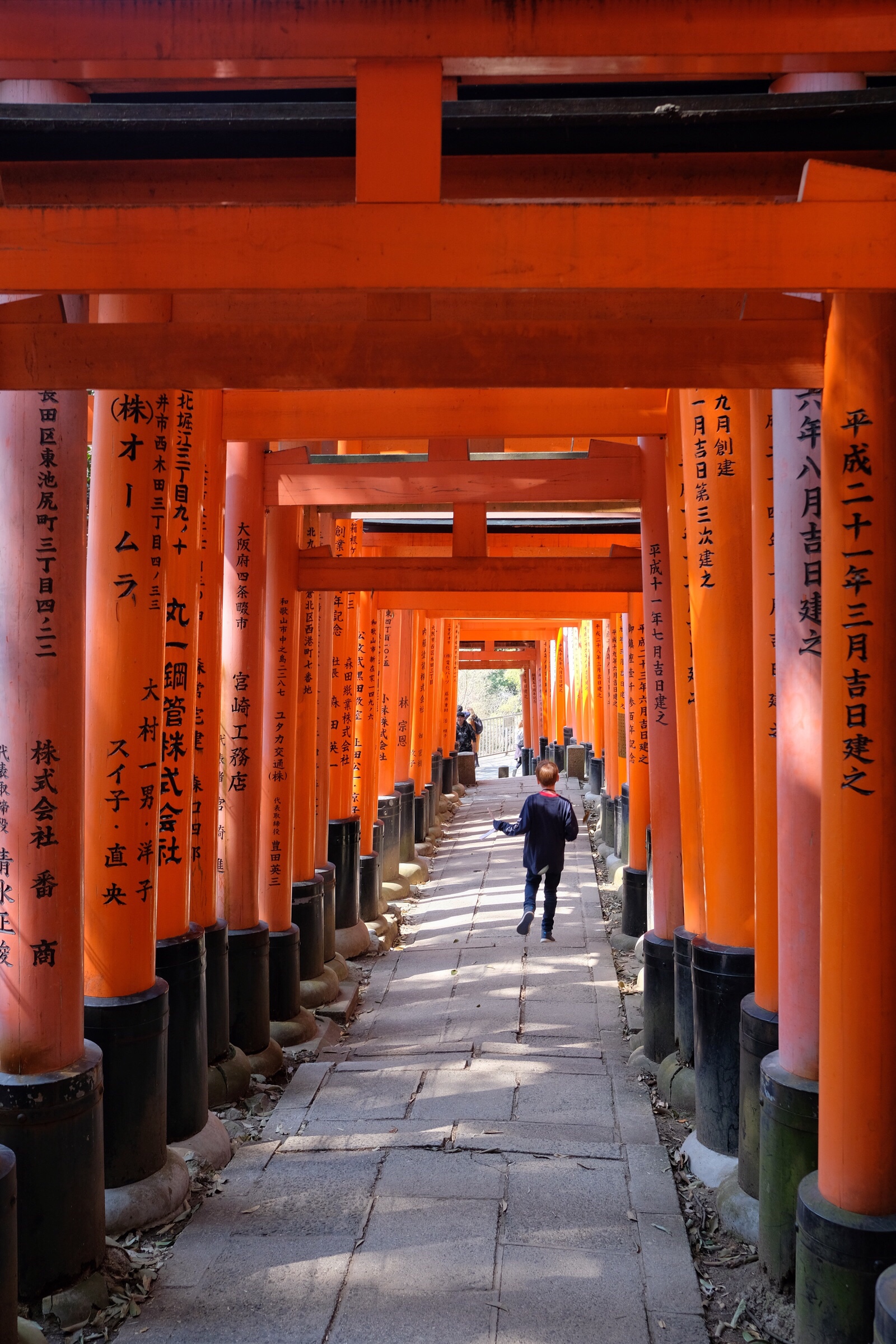 We loved every step. Walking along the paths through the forest felt a little otherworldly, and even though there were lots of people at the beginning of the trek, by the summit, it wasn't crowded at all. Rowan was disappointed because he thought he would get a great view from the top, as if from the top of a mountain, but the hill isn't that high, so we were surrounded by trees at the peak, but he did get a kick out of exploring the shrine there, which is a little like a maze, with steps and narrow paths all around, so you can play a pretty good game of hide and seek. Plus we took breaks at two rest stops on the way down to take in the gorgeous views of Kyoto (and a little ice cream of course).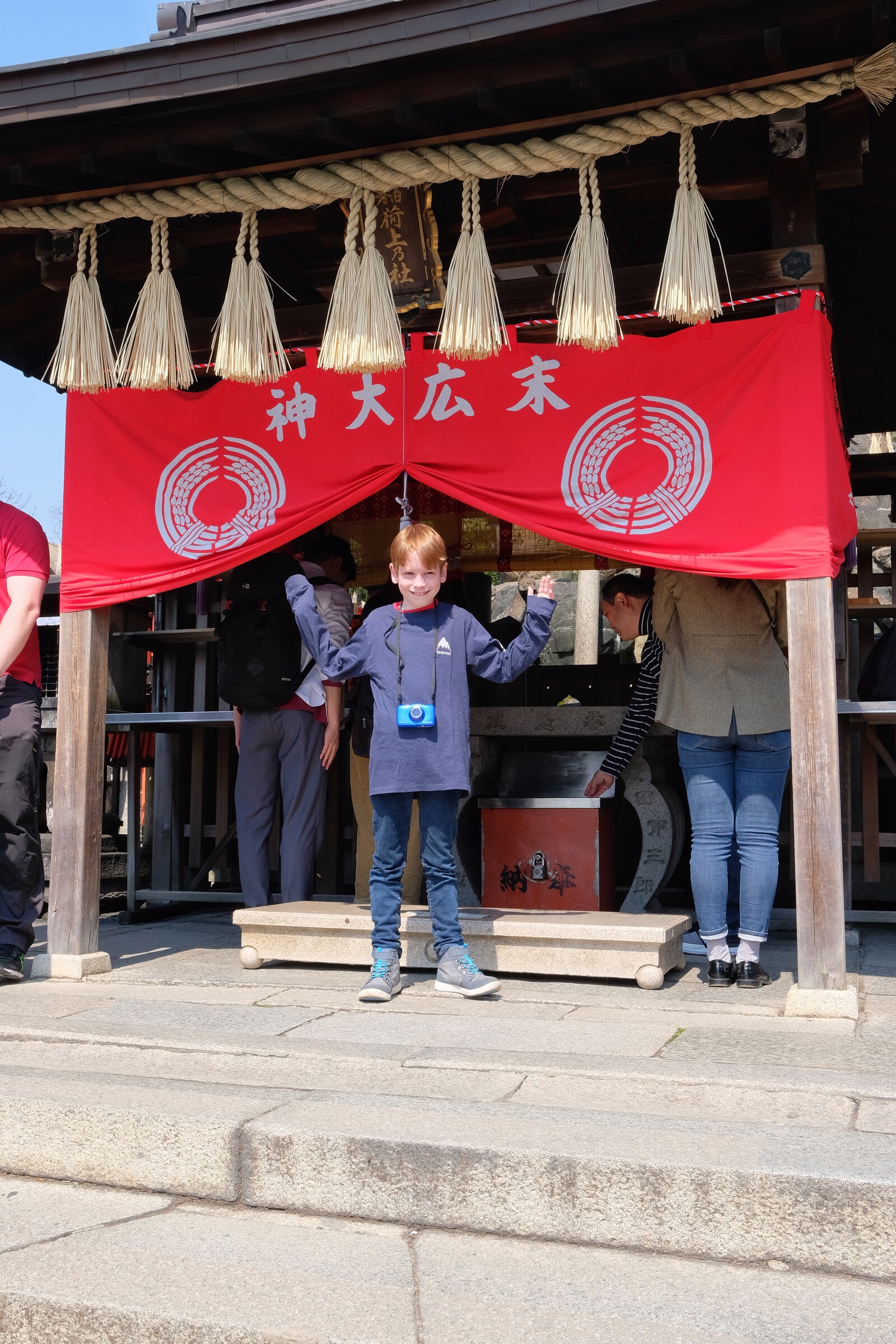 On our last full day in Kyoto, we walked through the geisha district before heading to Kiyomizu-dera Temple, known for its huge balcony. It was raining and the temple balcony was under renovations and covered in mesh, but it was still beautiful to visit. The main hall has an incredibly ornate metal lantern hanging from the ceiling and gorgeous gold ornaments along the altar, which Rowan fearlessly jogged around a set of pillars to see. The gardens include a short walk along a path up the hill at the back to a tall pagoda, which was fun to photograph.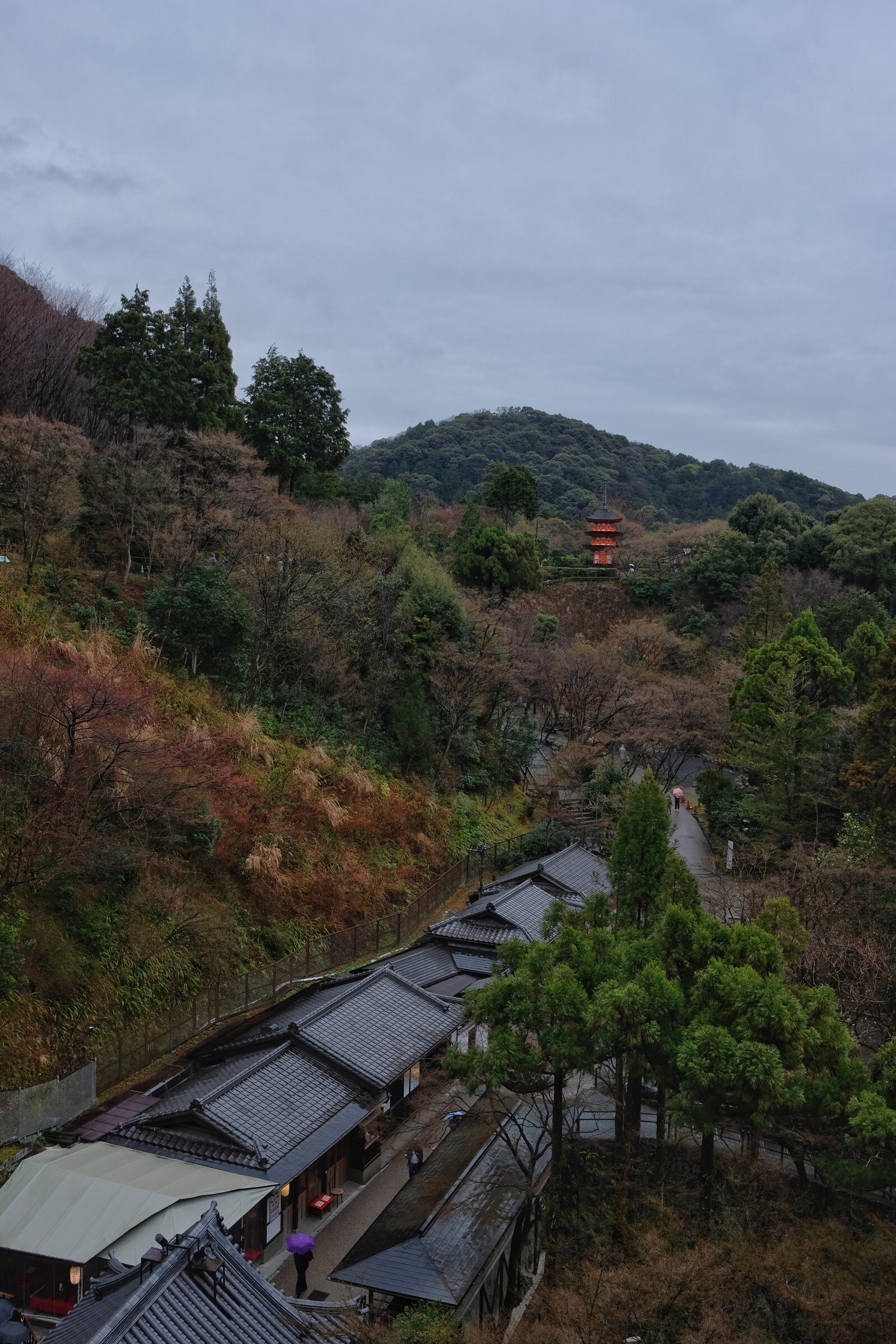 The narrow road to and from the Temple is lined with pretty tourist shops, and so very crowded, but, as with everywhere in Japan, people are very respectful and kind, polite and unhurried, so it's still a pleasure to experience.
We had lunch at a riverside vegan cafe called Veg-Out, where we had amazing dishes and Rowan had a 9-piece Obanzai, which is a style of Japanese cooking that is native to Kyoto. It had pink mashed potatoes, a mushroom stew, little croquettes like falafel, noodles, and a bunch of other small dishes surrounding a mound of brown rice. He has become very adventurous with his eating while we've been in Japan, trying and enjoying all kinds of dishes.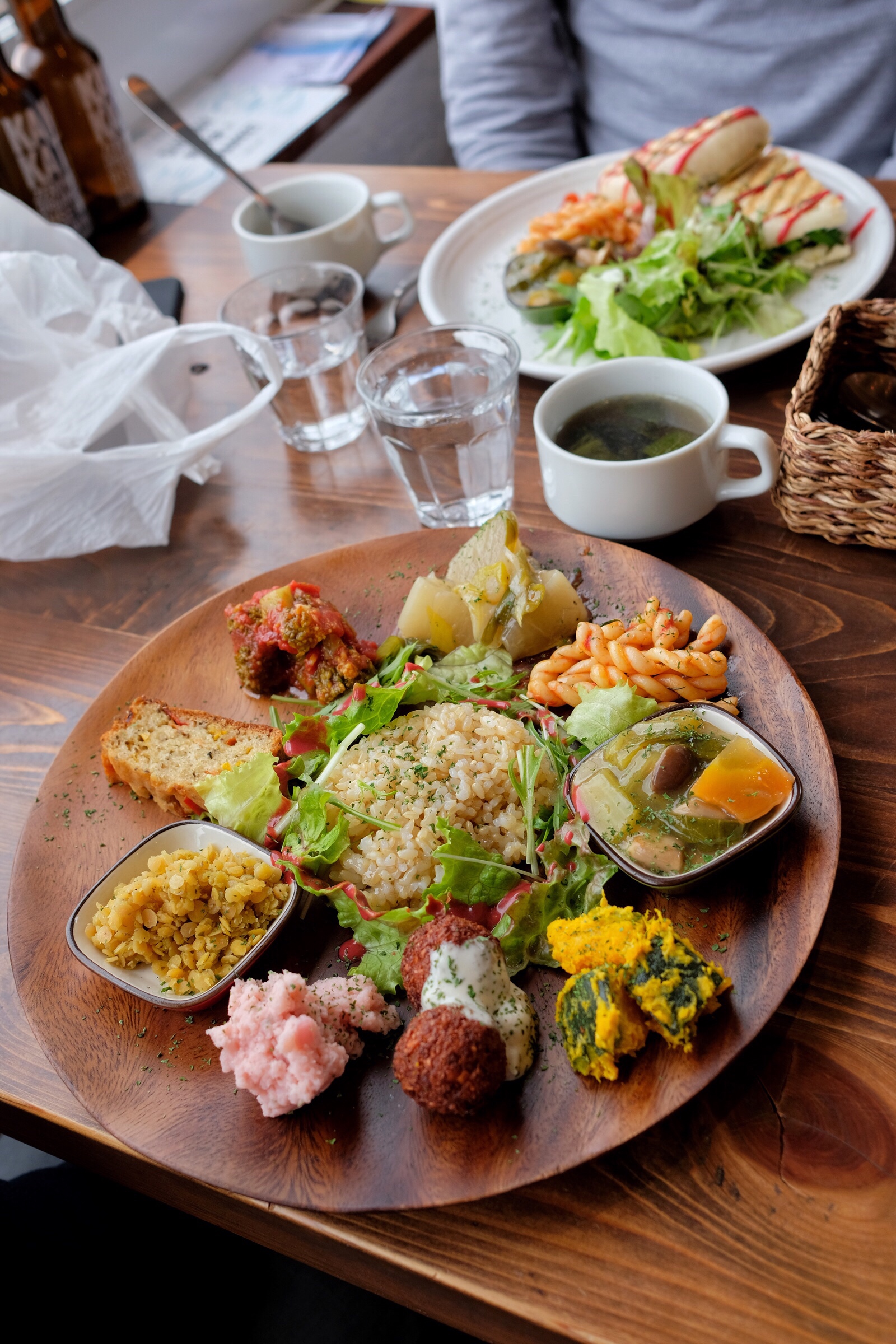 We had one more stop on the way home, to see the original Nintendo building, which was about a five minute walk from the restaurant. While Kevin and Rowan geeked out, two more families with pre-teen kids and techie dads came by to take photos too. For a small building with a tiny plaque in a remote suburb of Kyoto, it was certainly a hotspot for gaming fans.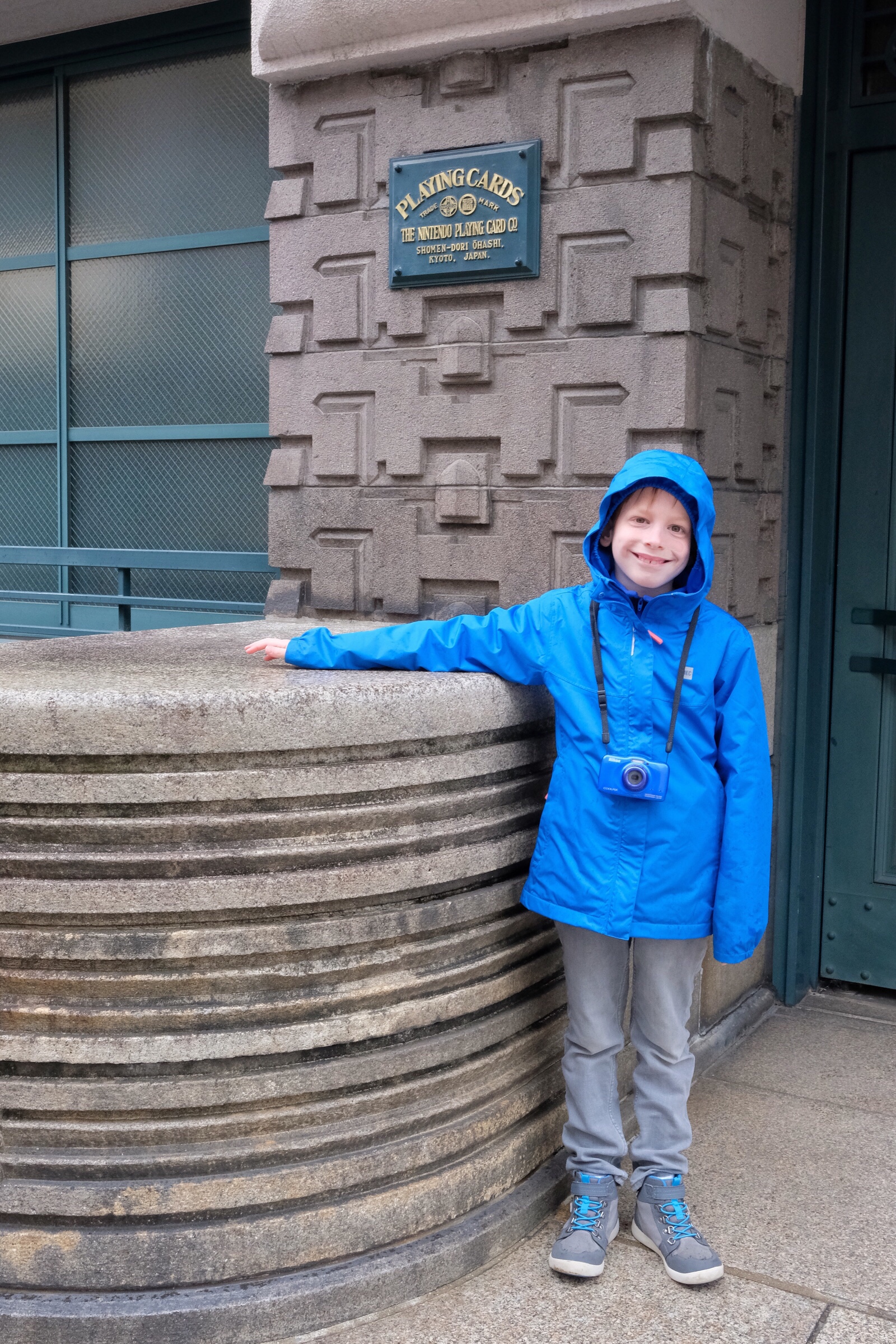 For dinner we went to a vegetarian friendly restaurant two minutes from our hotel, called Bio-tei, which is a tiny place on the second floor, above another restaurant. There, Rowan loved a vegetarian miso soup and a barley salad with beans, grapefruit and Japanese vegetables we've never had before. When he finished his meal, Kevin and I both laughed when he spontaneously said, "that was really good". The little man knows what he wants and what he likes.