Our hotel, Coronari Courtyard, is in a fantastic neighbourhood between the Tiber River and Piazza Navona. It has eclectic shops and restaurants, and always has some people traffic, though it's not touristy at all. We've become used to visiting the local grocery store for everyday essentials like cakes, juice and beer (how did that become an essential??) and visiting the local restaurants our hosts, Evelyn and Serena, recommend. At night, the piazza below our window is filled with people out for dinner and little kids playing games of tag. Meanwhile, every morning at 9am, we hear the church bells ringing out from San Salvatore in Lauro, at the top of the piazza, which is simply gorgeous.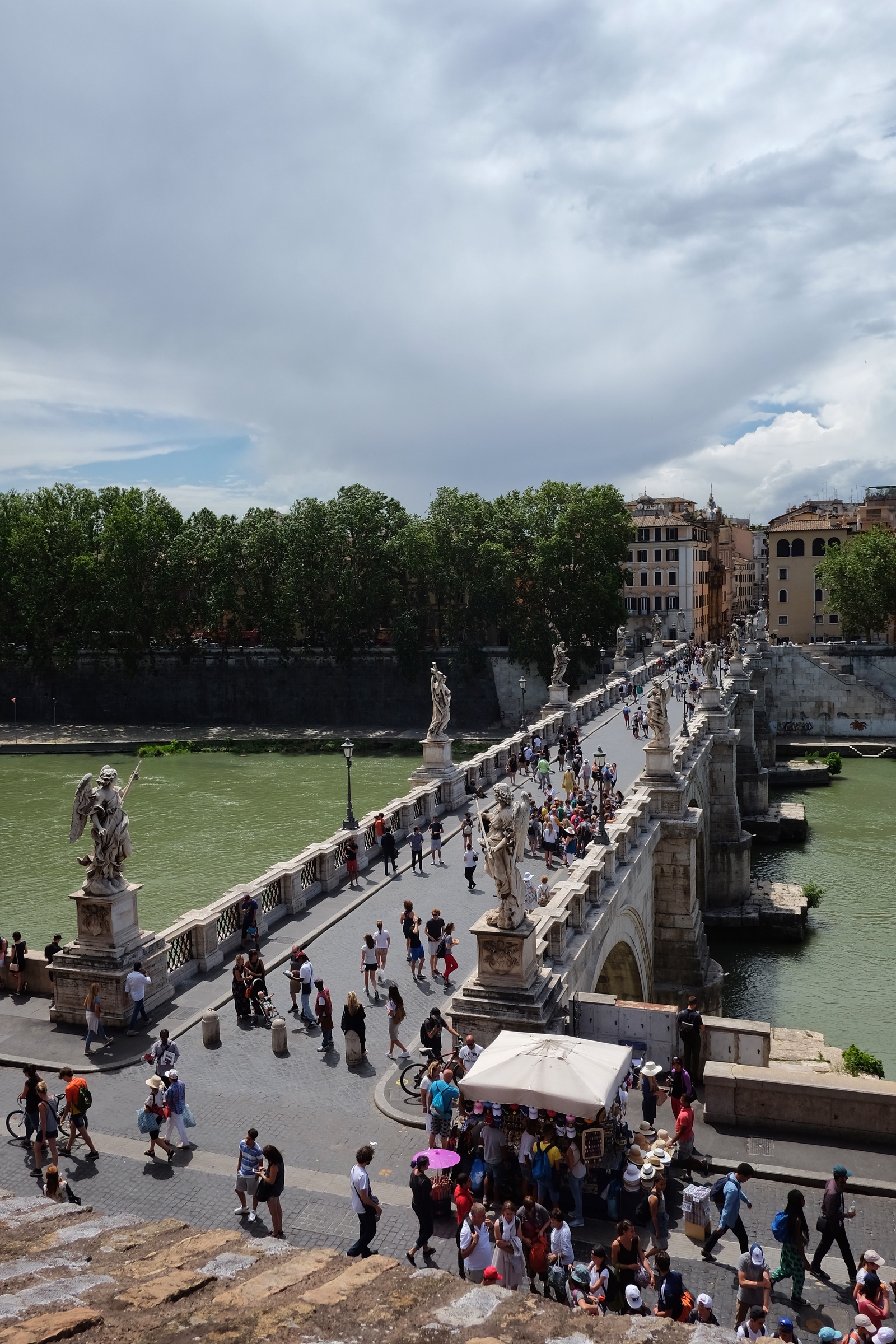 The location is awesome also because we are a two minute walk to Ponte Sant'Angelo, which took us across the Tiber River yesterday morning, to St. Peter's Basilica and, after that, Castel Sant'Angelo.
First, we lined up for about half an hour to go through security to get into the Basilica, which was pretty good, especially since it was overcast and only about 28 degrees. We let Rowan play Angry Birds on my phone, which kept him occupied during the wait, but once we crossed through security and made our way into St. Peter's, the little guy didn't need any video games anymore – he was hooked.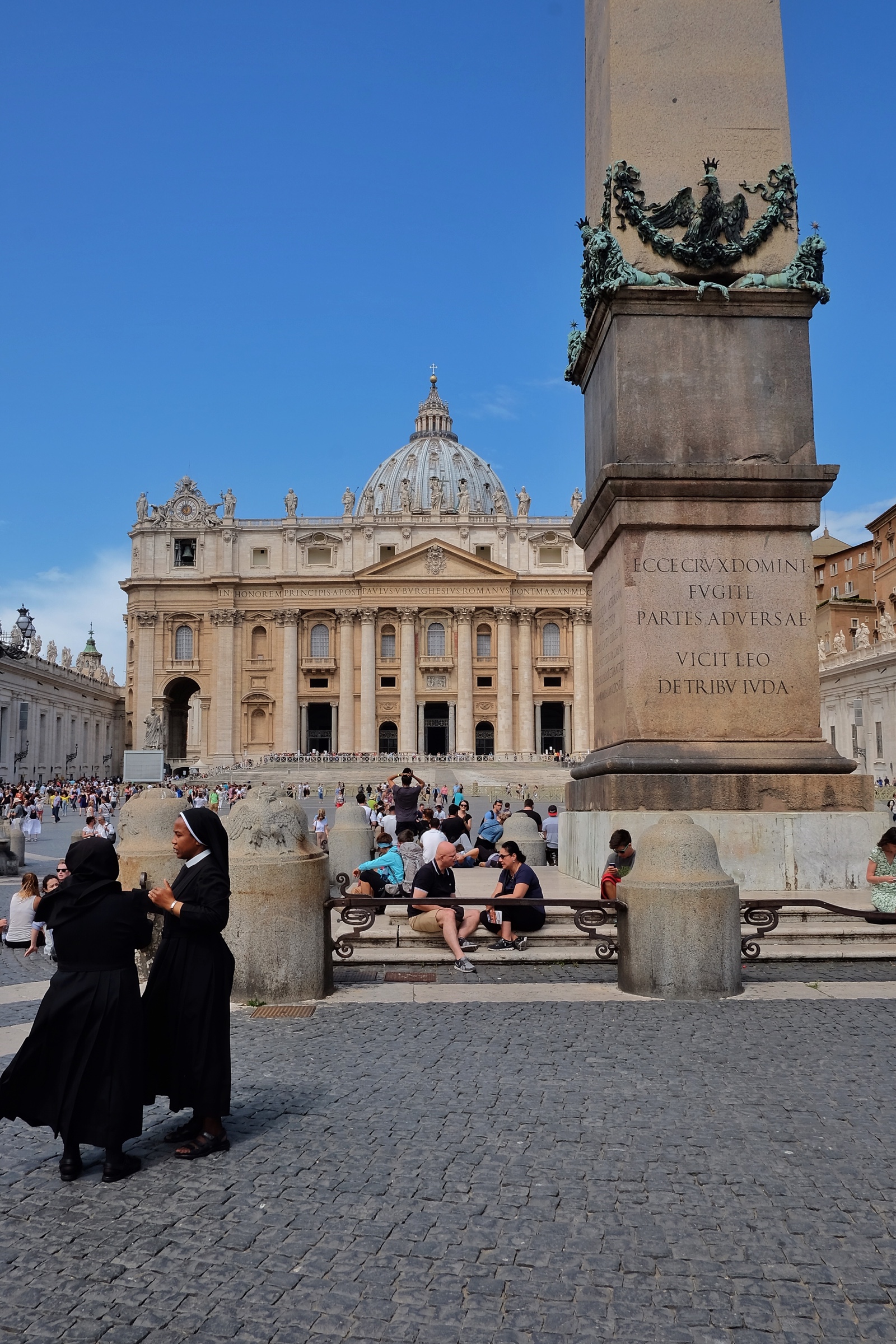 "It's like a giant lives here," he said, looking up at the ceiling, 100 feet above our heads. We searched for items in his Mission Rome (amazon.ca / amazon.com) book, including 10 doves and 10 emblems of the Papacy, which was super fun. Then Rowan wanted me to take him into a small museum in the sacristy that had lots of historical religious objects from the Basilica, including elaborately decorated papal robes, jewelled crucifixes, and delicate relief sculptures. Rowan enjoyed going to see all the items and showing me which he found the most interesting in each room.
After that, we snuck our way to the front of the crowd looking at Michelangelo's La Pieta, which we found is super easy to do if you're a 7-year-old, or his mom, trailing behind holding his hand.
After leaving the Basilica, we searched for some Mission Rome (amazon.ca / amazon.com) items outside, and Rowan did a fantastic job finding stuff, even one symbol we thought was kind of tricksy. We think he's ready for reading Dan Brown (amazon.ca / amazon.com) any time now.
On our walk back to our neighbourhood, Rowan decided we should go to Castel Sant'Angelo, the secure fortress for the Pope and his court that, back in the day, they reached via a secret tunnel. We got to see rooms and terraces along all three floors of the castle, which was fun for Rowan because of the cannons, piles of cannon balls, spears, dungeons, and fortified walls that made it feel like a really cool, medieval castle. For Kevin and I, the cost of admission was worth it for the view from the highest terrace, where you can see all of Rome. And, on a cool, breezy day like yesterday, it's an absolutely perfect place to spend a couple of hours exploring.